Days after Hezbollah dealt a blow to the CIA in Lebanon, The agency responded through a dodgy New York Times report, in which they passed a message to Hezbollah and Lebanon, that they hold the keys to their country's economy, or in other words, they could crash it anytime. Here is an analysis of the
article
, and the hidden CIA message:
I am no intelligence expert that is for sure. But when a state approaches an award winning journalist like "JO BECKER" or a newspaper like the New York Times, and allows it clear and unprecedented access to secret information, undercover agents, anonymous government officials, there is more to the story than that. I think Jo should have dug deeper into the politics surrounding the information she received in this article. The following two reasons would have alarmed any journalist, let alone an experienced and award winning one like Becker:
1. The
TIMING:
On last Friday night, Hezbollah exposed the CIA network working in Lebanon, they exposed names, local methods and agents. A few days later, the Central Intelligence Agency responds through a well-known journalist. What a scam! I am not saying that Becker should have dodged the story, but that she took a deeper look into the work of things. She mentioned in the article that:
"Certainly the United States had ample cause to want to dirty up Hezbollah, Iran's armed proxy and a persistent irritant to American interests in a chronically troubled region. (Just last week, in fact, Hezbollah's long-running feud with the Central Intelligence Agency heated up when the organization broadcast what it said were the names of 10 American spies who had worked in recent years at the embassy in Beirut. )"
2. The
ACCESS.
She received great government access. This stirs suspicions.
I think the CIA sent a clear message to Hezbollah through this journalist, which is very direct in her concluding sentence, that
"In fact, as Treasury officials acknowledge, on Mr. Salameh's watch, most of the accounts were simply transferred to several other Lebanese banks".
In other words, the CIA says to Hezbollah:
We hold the keys to crashing Lebanon's economy
. Unfortunately, this is true. Unlike in Iran's case, the U.S. does not need to rally its international partners or the Security Council's reluctant members. What they need is a simple U.S. decision to impose Treasury sanctions on Lebanon's banking sector. Then, the story is over. Thank you Jo Becker for acting as the CIA mail woman. I will definitely keep an eye on what you have to say next.
(By the way, the Arab Digest loves exposing Hezbollah's hypocrisy, look at the archive. But this is beyond that, it is about the U.S. destroying another Arab country in the Middle East, after Iraq).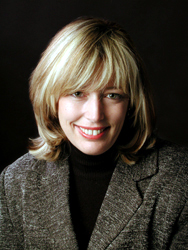 (Becker, from the Pulitzer Prize website)